** This project came from one of my previous blogs. In an effort to add some of my favorite projects from the past into my current blog, I'm reposting them for you all to see here in the archive. Enjoy!
-------------------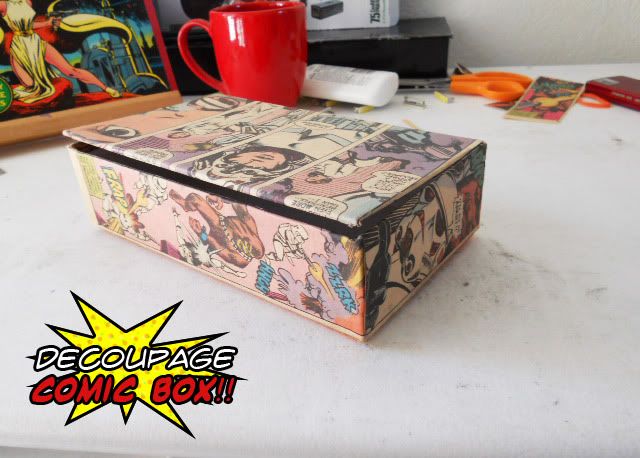 Today's craft came to me while wondering at my local craft store. I used to decoupage boxes all the time when I was younger and I figured it'd be a great way to celebrate "May the 4th" (tomorrow) with a Star Wars decoupage box. :)
Enjoy!
What you'll need
a box
Comic Book
Scissors
Box cutter (optional)
Glue
Modge Podge
Paint Brush (for the Modge Podge)
felt (optional)
First things first, find a comic book you want to work with. I chose a Star Wars comic for my project. If you don't have boxes laying around filled with comics like I do, try a used book store. If you still can't seem to find any around you, Ebay and Amazon are great places to find cheap, used comics.
Once you've found some panels that interest you, eyeball to see if it'll fit. If it does, cut it out! I like to leave the space in between the panels so that I'll have something to fold over the corners or act as a backing should I need to use more than one panel to cover an area.
Place your cut out panel to double check that it fits. Crease along the edges so that you'll have a guide to glue. Trim the excess if needed. You'll want about 1/4″ of excess to fold around the corners.
Before gluing, use a box cutter or a pair of scissors to lightly scratch the box. This will help the paper and glue adhere to the box better.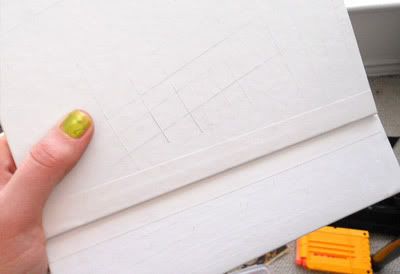 DO NOT CUT
on the "hinge" for the box.
You don't want to accidentally cut it off. :(
Glue time!!
Make sure to not put too much or it will bleed through the comic pages.
Place your cut-out piece of comic onto the area you applied the glue. Start from the opening and work your way down. Smooth it out with the palm of your hand or finger. Be careful not to smear the glue onto the comic image.
Use your palm or fingers to work the glue to the edges and to ensure that the comic has been glued flat to the surface of your box.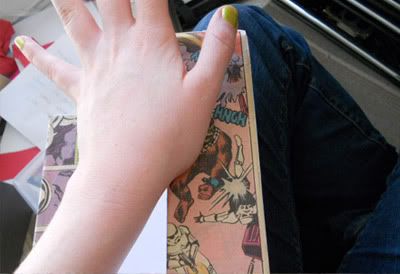 Open the inside of the box. Crease the edges to get an idea of what's being folded over. Apply Glue.
When gluing the edges down, glue directly onto the paper. Be careful not to put too much on or it'll get messy. Dont forget to wipe your fingers often. I have a pair of craft jeans for just this occasion. If you don't keep your hands clean, you'll get all that schmutz on your craft.
Once you've gotten all of the box covered and it has dried, it is time to give it a clear coat of Modge Podge. This will help protect it from further aging and getting damaged. I've used the Matte version here.
I used something small to keep the box lid from closing so that it wouldn't seal shut. Make sure to only seal one side at a time to prevent any mistakes.
And there you have it!
A decoupaged box covered in your favorite comic.
You can also use old magazine's and story books.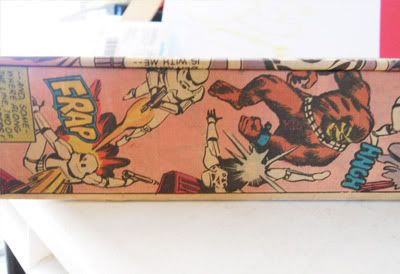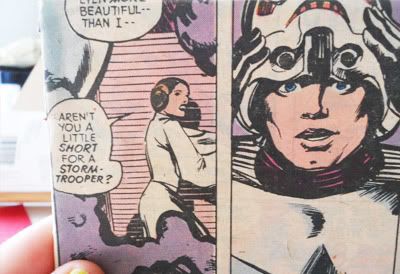 I absolutely love my comic box! It was fun and easy to make. Decoupage isn't limited to boxes. If you've got some extra things lying around or maybe you're looking for a great project for your kids or yourself – whip out some old comic books and get gluing!!
<3 Stephanie