Last month, one of my best friends had her birthday. When I asked her what she wanted me to get her, she insisted that I make her one of my rainbow cakes. What she didn't realize is that I would have taken it up a notch and bake her a Nyan Cat cake.
I mean, what's not to like? You've got a flying poptart cat with rainbows set to extremely repetitive and catchy music.
Overall the
cake
is pretty simple to make. The decorations will take a bit of patience.
9.27.111 Update! :
Because this was such a popular post and a lot of people asked me questions about how I made it, I have decided to write this post into a tutorial. Sorry for the length, but there were so many components to this cake, I felt like I couldn't leave anything out. I hope this helps you on your baking journey!!
WHAT YOU'LL NEED: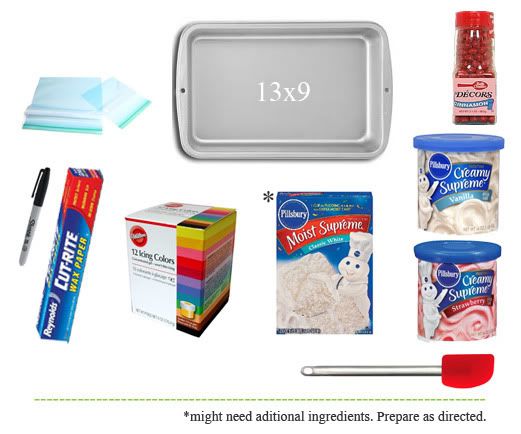 You can use homemade recipes, but because I was pressed for time and money, I went with a lot of store bought items. Here's what you'll need:

For the Cake:
Cake mix & it's ingredients
Wilton Icing Colors
Cinnamon candy sprinkles
Vanilla Icing
Strawberry Icing
For the Cookies:
Sugar Cookie cut-cookie dough. I use this recipe.
Royal Icing. I use a modified version of this recipe.
Wilton Icing Colors (to color the royal icing)
For preparation:
Pen and Wax Paper (to act as a stencil for Nyan cat)
Freezer and Sandwich baggies
spatula
Some notes before you start:
After my experience with this the first time, I suggest that you bake and decorate the cookies ahead of time. I had a hard time keeping the colors from melting together. If you're not used to using royal icing then might I suggest you only do the gray in royal icing and the rest of his facial details in normal icing after it has dried.
I also would advise against using a glass cake pan as I made this mistake. I had a hard time getting the cake to come out, which tore it up. I hid my mess-up under all the icing, but in the future I will for sure be using a metal pan next-time.
PREPARE & BAKE:
Pre-heat your oven according to the directions for your cake recipe.
I used the store bought white cake mix and prepared it according to the directions. I recommend using an electric mixer if you have one. It will make mixing in the color easier when we get to that step.
Once the batter is made and there are almost no lumps, divide it into stain-proof mugs and bowls and add Wilton icing colors accordingly, small bits at a time. Mix thoroughly!! You don't want to bite down into a blob of food coloring. I find myself adding just a tiny bit at a time. The Wilton icing colors are highly concentrated. And they will stain your hands and countertops. I do not reccomend using normal food coloring or gel colors, as you'll have to add A LOT to get comparable results.
Once you have your batter colored, it's time to add it to the pan. Make sure to spray it down with some non-stick spray. Time to make some rainbow cake!!
The hardest thing I ran into was keeping the colors separate. I found that leaning the dish toward me and going one color at a time
quickly
did the trick. Once I had all the colors, I layered the opposite colors over it - to ensure that most every bite was a rainbow. I sprinkled what was left of my batter on top to give it some extra mixed color. Then it was time to bake!
COOKIE PARTS:
For the cat's face, feet and tail I hand cut some
sugar cookies
and iced them with
royal icing
.
For the cookie shapes, I drew out Nyan Cat's head, feet and tail onto some wax paper. I tried to keep them as proportionate to my cake pan as I could. Make sure not to place the marker-side down onto the cookie dough. Take a sharp knife and cut through the wax paper and the dough. If you're having hard time cutting through the dough, then I suggest just running the knife along the paper and going back over the indention to cut them out. Place them on a cookie sheet and BAKE!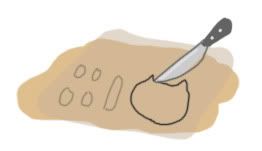 You
WILL NEED
an electric mixer to make royal icing. I use a 7-speed hand mixer which I got for around $25. Royal icing takes a lot of patience and practice and is something that doesn't always work the way you want to. I usually test a bit on a spare cookie to check for consistency.
Use the freezer and sandwich bags to pipe the royal icing. For better control, pipe a border first and let it sit for a minute or so to firm up, but not harden. Then fill it in. Let your first layer (in this case the grey layer) sit for a few hours until completely firm. Add additional layers (eyes, mouth, cheeks) when the first had hardened completely.

We always keep vanilla almond milk in the house and I find that adding a tiny bit (give or take a tsp) to thin out the royal icing can make it easier to work with when it has gotten too stiff. If you don't have any, don't worry. Any milk will do.
USE CAUTION!
If you use too much milk to thin out the icing it will get runny and messy.
If at all possible, I would suggest working on these cookie parts a day in advance of the cake. I tried to do it all at once and was battling a melting mess.
FINAL DECORATIONS AND ASSEMBLY:
Once the cake had cooled, I removed it from the pan and gave it a crumb coat and then let it firm up in the fridge - this is super important. Since I was layering two colored icings for the body, I wanted to make sure it stayed nice and clean.
I used some of the Wilton's Icing Colors to creative the tan "pop-tart" color and some store-bought strawberry icing for the pink "pop-tart" icing. Use the spatula to apply and if you find that the icing is a little too thick, add a tiny bit of milk until you get a slightly-runny consistency. Once you've gotten the two layers of icing down for his "pop-tart" body, add the cinnamon candy sprinkles.

Finally when piecing it all together - wait until the last minute to add the cat's face. In my case it was just too heavy and I ended up using a piece of cardboard propped up underneath it to keep his head from falling off.
And there you have it!! A rainbow Nyan Cat cake. :)
Overall, I was very satisfied with how this cake turned out. Did I mention it was delicious? Sorry I didn't get a whole lot of photos for this one. I was up well into the morning and was too tired to remember to take any photos.
I will definitely make some more meme cakes in the future. :)
- Stephanie <3