** Sorry about the lack of costume post today. Jeremy and I are making a last-minute trip down to Louisiana this weekend, and I've just been too busy to get it done in time. I'll post the How-To for our costumes next week. Stay tuned.
----------
In an attempt to
flatter and shower with gifts
show my admiration for those I respect in the blogging community, I've decided to start a new spotlight segment.
I've had a rough past few months since my being laid off back in May. Blogging has become a vice for me to subdue my workaholic tendencies. Though, getting back into blogging hasn't been easy. I've started and stopped two previous blogs before comfortably settling-down with this one. And while I'm still new at this, being an avid reader of the following blogs keeps me inspired and motivated everyday.
Thank you. :)
-----
The following three people are the ones who inspire me most of all when it comes to blogging: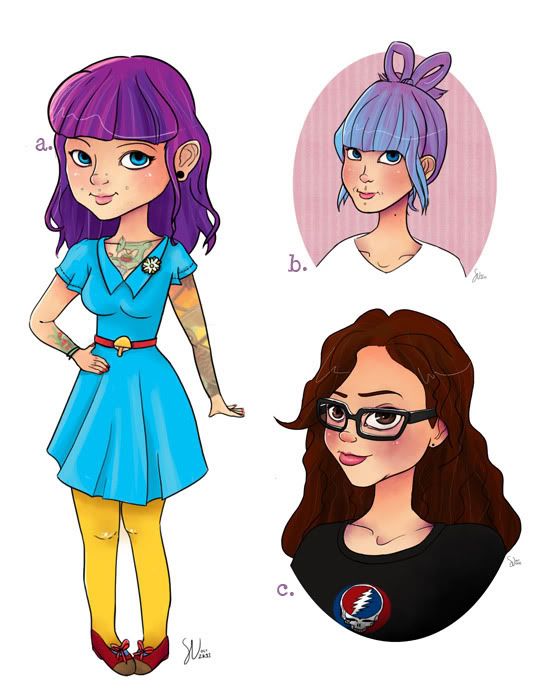 a.
Kaylah
: @
The Dainty Squid
//
Kaylah over at The Dainty Squid is pretty much my main inspiration for getting back into blogging. She writes so well, that I can feel her personality come through her words. In her blog, she writes about her thriftiness, exploration, photography, cats and some pretty crafty tutorials. I'm also extremely jealous of her tattoos.
b.
Elycia
: @
<3 Elycia
//
This is Elycia from the blog,
<3 Elycia
. I've only recently gotten into reading her blog. She posts about her outfits, trifty finds, her home life, and some pretty neat tutorials. Her smile always cheers me up, even when I'm having a bit of a gloomy day. Plus, her hair is always some sort of awesome. It makes me wish I could dye mine again.
c.
Nicky
: @
Awesomeville
//
This one means something extra special to me, because Nicky from
Awesomeville
is an actual friend of mine. Nicky blogs about her photography, being an expat in the UK and sharing her awesome mommy experiences. Her daughter Maddie is an absolute delight. Nicky's also a bit of a nerd and a hell of a writer. I love reading about her journey through life with her family.
She's also a fan of The Grateful Dead if you haven't already guessed. ;)
-----
I've uploaded all three pieces onto
Deviant Art
for those of you that might be interested. I'll continue to work on and improve my doodles and post them on my DA account.

//
If you'd like to be featured on my blog spotlight, or just interested in getting some art done, message me and send me a link to your blog. I can't guarantee you'll be featured. But if your blog is truly inspirational and I find myself checking it everyday, then odds are you'll be flattered with some art of your own. :)
Because we're driving down to Louisiana this Thursday night, Friday's post will be automated. I'll be home on Sunday, so please be patient as I might take a few days to respond to messages and comments. <3
<3
LLAP
- Stephanie