What a weekend these last few days turned out to be. Jeremy and I went to Fan Days on Saturday, despite my observation of
Yom Kippur
(I had to fast for 24 hours with no food or water). It was tough, but I managed to make it though the whole day with nothing but a few hunger pains and some mild vertigo.
It took me about 2 hours to put my make-up on and with a little help from Jeremy I think it came out a lot better this time around. Again, I used Ben Nye Final Seal spray. This stuff is amazing. Not a single spot was damaged during the entire event.
Once we got there, we met up with our friends, some of whom were also in uniform to match. Our friend Megan joined up with us later, sporting an amazing hand-made Maroon Monster.
Did I mention we got to meet George Takei? He is absolutely amazing. Nothing but jokes, stories and time for his fans. When Jeremy and I walked in for our photo, he looked at me and my spots and went, "Oh my!" I am pretty sure I let out a fan girl "squeee!"
We wandered around a bit, got lots of photos taken of us, hung out with the R2DS Builders club, the 501st and my pal Randolph. We explored what we could, bought what we could. A couple of us sat in on George Takei's Q&A session. Again, he had nothing but jokes and stories to tell. He was really sad when they had to cut him off due to time.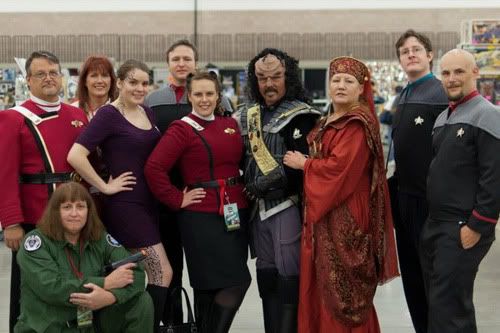 USS Joshua and the USS Navras - c/o Phil M.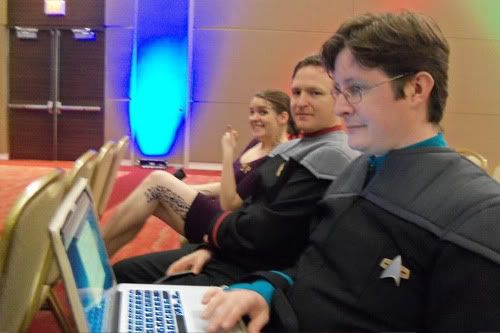 Sorry guys, the spots DO NOT go all the way down. :[
@ Takei's Q&A - c/o Megan M.
Near the end of our day, we were flagged down by one of the guests for pictures. He said he was an actor on Star Trek TNG and Voyager named Rick Fitts. We honestly didn't recognize him, but after a bit of IMDB investigation we found out who he was and got pretty excited. I just watched the episode of Voyager that he was in last week.
Rick Fitts played the Zahl Ambassador in the "Year of Hell" episodes on Voyager.
He also played Dr. Martin in "Violations" on TNG.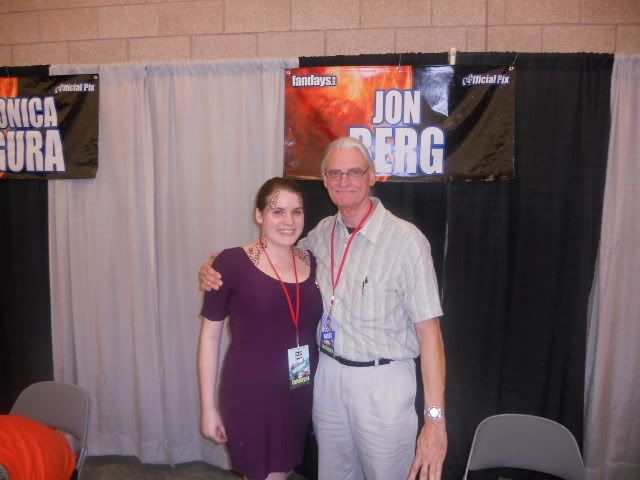 I also got to meet Jon Berg, creator of the AT-AT Imperial Walker for Star Wars.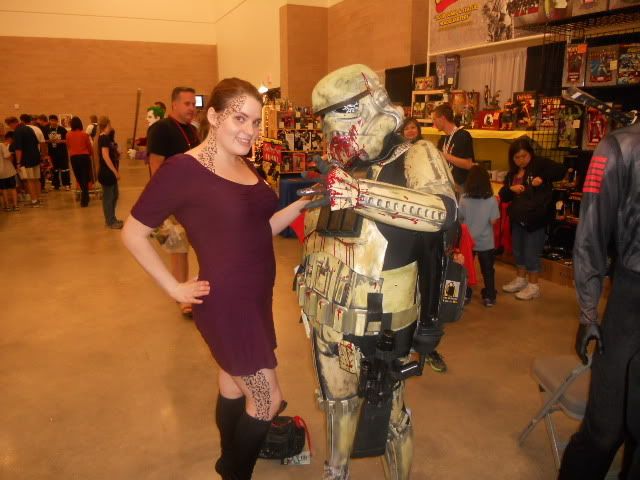 Zombie Storm Trooper. These are not the brains you are looking for.
This chick was super excited to get to pose for a photo with me. She loves the Trill. - c/o Phil M.
We picked up a couple of neat things in the dealers room. Jer got a spiffy Star Trek Bathrobe and some autographs. He got me a Star Wars Wampa toy with removable arm, and a 1977 Close Encounters of the Third Kind magazine-comic for only $2. It's my number one favorite movie of all time, so I was pretty excited when we found it.
At 6pm when everything wrapped up, we headed to Chipotle and ended the night with barbacoa goodness. Then we headed home to watch our hockey team lose and our baseball team win
All and all a successful Saturday. :)
Live long and prosper.
<3 Stephanie