Have I mentioned how much I love birthdays?
My friend celebrated his birthday over the weekend. Since he had a less than awesome birthday, I thought I'd spread the birthday cheer with one of his favorite things - tanks. I modeled them after the WWII
M4 Sherman tank
.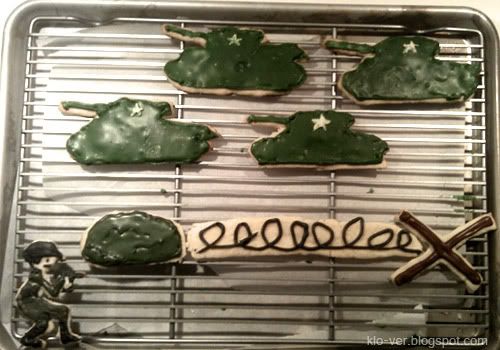 With the leftover dough, I also played around a bit and made a barricade, a Nazi soldier complete with luger, and a bush for the Nazi to hide behind. He doesn't look too thrilled...
Trace the printed stencil onto some wax paper.
Place the wax paper on your cookie dough and gentle trace over the lines with a blunt knife, careful to not cut through the paper.
Remove the paper and use the knife to cut out the cookie.
This is extremely time consuming. If you're handy, you can use my stencil to make a cookie-cutter.
If the edges start to deform after you've cut them, you can use the blunt knife to reshape up the edges.
You can download the PDF for the cookie
here
.
----------
Also, don't forget....
I start my new posting schedule this week. From this point on, I'll be posting all updates in the morning on Mon/Weds/Fri.
<3
- Stephanie