These cute little pumpkins cost me $0.99 a piece. I'll probably have the house filled with them by the end of the month.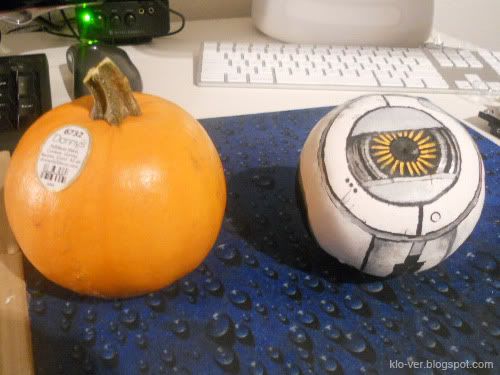 From pumpkin to astronaut! B)
When I saw these at the store, I instantly thought of the Portal 2 Spaaaaace core. After a few coats of some craft paint, that dream became a reality. :)
I'm still trying to figure out a way to construct his two little handles. I'm afraid to glue anything onto the pumpkin just yet for fear of it rotting. But when I do decide to risk it, I'll more than likely build something out of some wooden dowel rods.
The blank one of the left of the above photo is getting painted into
this guy
when I can find the time.
I'm resisting the urge to buy full-size pumpkins until the end of the month. They never last very long here in Texas, especially once they are carved.
We are also holding off until the final week of October before we start carving pumpkins. I have so many ideas for what I want to carve this year. Last year I did my first pumpkin scult, so I'd like to give that another shot.
me and my pumpkin from last year.
Expect plenty more "Pumpkin" posts coming up over the next few weeks. I found out that it's been yearssssss since Jer has carved a pumpkin, so I'm making it a mission to go all out Pumpkin crazy at the house.
Halloween is probably one of my favorite things about fall. It's also one of my favorite holidays to decorate for.
So definitely stay tuned for more Halloween posts this month.
I promise you, I'll have plenty!
<3
-Stephanie