-----


I'm still trying to figure out what I'm going to do with Friday's posts from now on. Do I share neat things or should I post links? Or do something entirely different? Well since I had a pretty easy day to myself yesterday, I figured that I would go ahead and create a new tutorial for you guys. :)
-----
With Halloween creeping ever so closer, I can't help but stay inspired.
I had a
song from one of the HP movies
in my head all day yesterday. It got me to thinking - magic is awesome. Most of my favorite Halloween movies are ones about witchcraft in some form or fashion. I used to prance around my room with paintbrushes as a kid and pretend I was actually a wizard.
If using a paintbrush just isn't quite doing it for you these days, then give this tutorial a shot. All it takes are a few materials from your kitchen and some polymer clay.
So easy, a Weasley could do it.
What you'll need:
A small metal baking pan at least 1" deep.
Aluminum foil
Cornstarch

polymer clay (Fimo Classic, Sculpy will work too!)
Now before I start, let me just say there is one downside to working with polymer clay. The cheaper it is, the less durable it tends to be. Avoid anything that says "soft" or just "polymer clay" If you really want to get some good use out of this, go the more expensive route and invest in some Super Sculpy or Fimo Classic and paint it.
// 1:
Take a small piece of foil and roll it up. I folded mine to about 1cm over and over again and then rolled it at the end to get the above shape. This will act as a skeleton for the wand and keep the wand from breaking in two.
**DO NOT skip this step.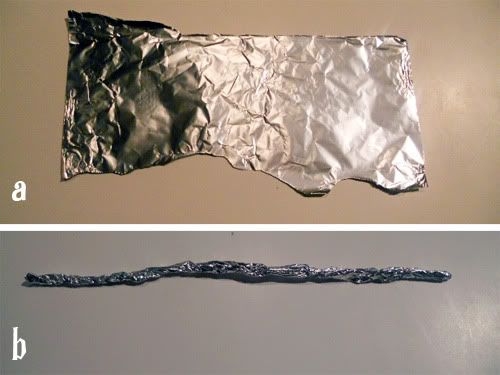 ** skipping this step, results in a broken wand.
Foil keeps the baking time down and offers structure,
as well as something for the clay to adhere to.
// 2:
Once you've gotten your foil skeleton for your wand complete, it's time to work on the clay. Take out your polymer clay and kneed it until it's nice and soft.
I found that the first clay I got was too brittle and mixed it with some random mystery clay I had laying around the house. It's still a little more flexible than I'd of liked it to be.
Next time I'll use super sculpy.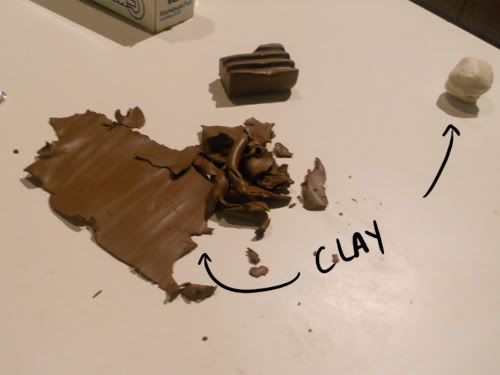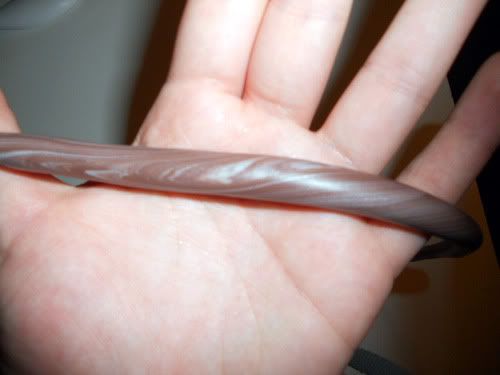 // 3:
Roll out your clay into a wand shape, just a tad bit longer and thicker than your foil wand. Then roll it flat, making sure it's wide enough to wrap around the foil wand.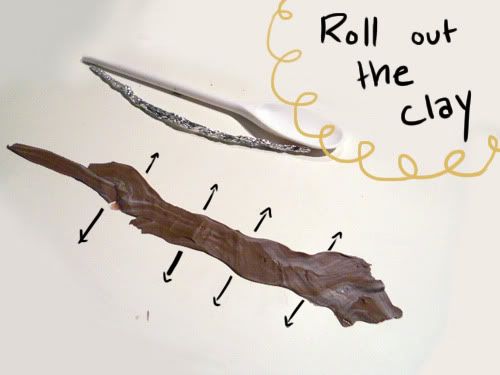 // 4:
Place your foil wand inside the rolled out clay and form it around the wand by pressing tightly. It's ok it if tears. Just cover the seams and make sure no foil is showing though.
You can add some extra designs in this stage if you'd like. I added a swirl around the base of my wand.
// 5:
In your metal pan, create a small bed using the foil. Fill it with cornstarch. Place your wand on-top of the cornstarch. This will support the wand while it bakes and help keep it from losing it's shape.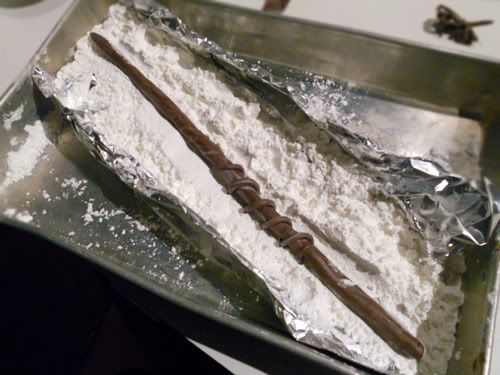 //6:
Into the oven it goes!! Follow the baking instructions on the package of clay.
// 7:
Let cool. Gently wash off the excess cornstarch. You can decorate it or leave it as is!
You are now on your way to becoming a wizard!
Use your wands wisely. ;)
I really liked how mine turned out. Using two different color clays gave it a cool swirl effect and I just don't have the heart to paint it. Now if only it was the real thing. Life would be so much easier around the house is I had magic to help do the chores. :)
----------
We'll be attending the Dallas Zombie Walk this Saturday. However, because of plans with our family that night, we can't get all zombie'd out. We've decided instead to use whatever we can find around the house to make 'survival gear' and take our chances with the flesh-eating mob. Wish us luck!
We'll also be completing our marathon of The Walking Dead this weekend. Jer has never seen it, so I'm catching him up quickly. The new season starts this Sunday on AMC. I'm excited!! Are you?
Thanks for reading my tutorial. I hope it's left you inspired for Halloween!
Happy Haunting everyone!
<3 Stephanie