Halloween is around the corner and here in Dallas we have a Zombie Walk coming up this weekend. To get in the spirit, I've decided to share an easy zombie make-up tutorial.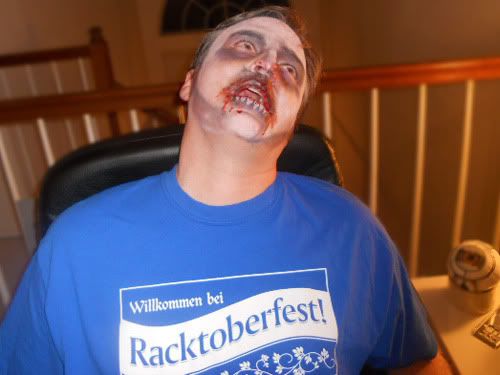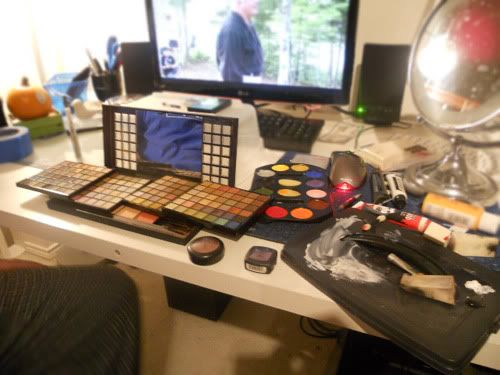 If you're a girl, odds are you have most of these supplies already.
If you're a guy, you might want to ask your significant other if you can borrow their make-up before your go hording through their stash.
My zombie make-up kit includes:
eye shadow
dark maroon blush
white and black cream face paint
a tube of fake blood
make-up sponges
liquid foundation
paint brushes
make-up brushes.

A nice set of make-up brushes is not needed for this. I actually use the tiny stock ones that come with make-up for my costume make-up kit. Cream paint can ruin your brushes, so be careful and always clean them after use.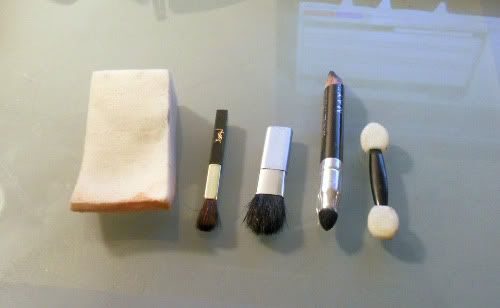 This is what I used to apply the make-up,
along with some paint brushes to paint on the blood and details on the face and lips.
You can usually find eye shadow pallets on sale for about $20, often times less. You can get these for super cheap at discount retailers such as TJ Maxx, Marshalls, Ross etc. You don't need 1000 colors, just the ones pictured in the tutorial. The cream make-up, fake blood and make-up sponges can be easily found at costume supply shots
-----
Jeremy let me experiment on him a bit. It has been a while since I had done any zombie make-up, so I wanted to make sure my skills were on par. You can also watch my video for a time lapse of me applying some zombie make-up on myself.
ZOMBIE JER:
// A:

Make sure your face is clean. If you're a guy, shave away the facial scruff. You can still work around your more permanent facial hair.



// B:

Mix some liquid foundation with some white cream make-up. This will make his skin lighter and act as a primer for the next step. It will also keep it from being

too

white.



// C:

Eye Shadow! Lots of thin layers and lots of colors. You want the skin to have a bruised look to it. You can use the eye shadow to highlight certain features of the face and neck.




// D:

Add highlights with your black and white cream paint. Add some more eye shadow if you think it's needed. Touch up with fake blood.


Once you're all done, you can go back over it with a make-up sealer to keep it from
fading. Again, I recommend Ben Nye Final Seal.
-----
I hope this tutorial was helpful in your exploration of becoming a member of the undead.
- BRRRRAAIINNNNNSSSS!!!!
<3 Stephanie