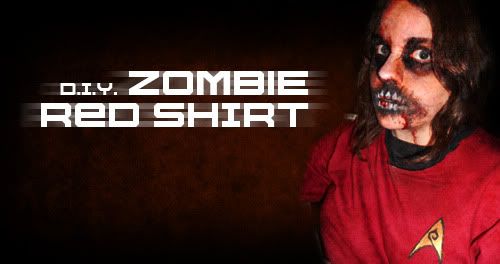 It's time for my Halloween costume post!!!
For those of you who might not be trekkies, I'll let you in on a little secrete. In Star Trek: The Original Series it was hazardous to your health to be a red shirt.
via ianleino
In most cases, it'd be Kirk, Spock and Some Ensign in a red shirt going down to a planet. I bet you can guy which of the 3 never made it back alive. It's a bit of a joke within the Star Trek community, one that even carried over to the 2009 movie.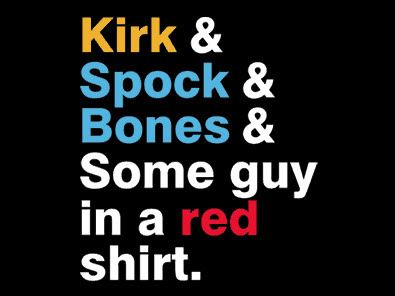 via T-Shirt Bordello
Inspired by the zombie book,
Night of the Living Trekkies
, Jeremy and I decided to go as Zombie Red Shirts from TOS this year. Here's how we did it on the cheap side:

What you'll need:
A long sleeved red shirt, V-neck if possible (I cut mine to be one)
An old black t-shirt
Gold Fabric Paint
Black Acrylic/Craft Paint
a throw-away paint brush & a fine tip paint brush
Wavy gold ribbon
Hot Glue & Glue Gun
Fake Blood
Scissors/Box Cutter
** You'll also need some black dress pants and lace-less dress boots to complete your Starfleet Uniform look. If you're going the zombie route,
see my tutorial
for zombie make-up.
-----
First things first, finding a shirt that will fit. Jeremy and I got ours in the Men's department at
Target for around $6 each. You want it to be slim fitting and not too long. However as in the case with mine - you can always cut up the excess to make it fit better. Like I said in my previous post, Zombies aren't clean. ;)
I drew out with chalk where I wanted to paint the badge and cut the v-neck. I also taped my shirt down to some cardboard to keep the shirt stretched. This helped the fabric paint for the badge go on smoother.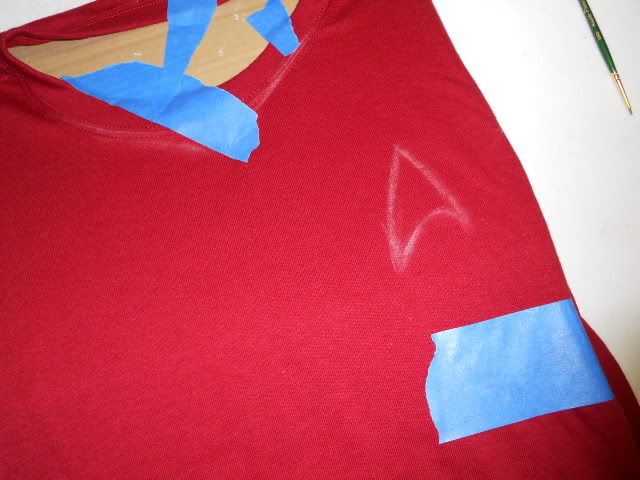 Once you have your shirt, take a piece of chalk or eyeball it to mark where you'll be painting the Starfleet badge. Since we're going as a red shirt, we'll be using the engineering logo. (Engineers wore red). When placing the badge, remember that it always goes over your heart.

(this is all the same shirt. My lamp's florescent light makes for bad photos)
1) draw design.
2) apply frabric paint.
3) smooth it out with a crummy brush.
4) Once it has dried, go back over it with a fine-tip paint brush and black craft paint to apply details.
For the sleeves, I used a wavy gold ribbon. The ribbon was too thin to be accurate, so I doubled it up and it ended up being the right size.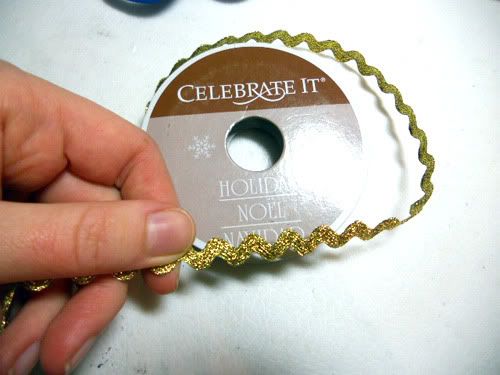 I found this specific ribbon in the Christmas Ribbon section at Michael's for around $3 a roll.
The 1 roll was enough for both Jeremy and I's shirt.
I used an old wine bottle to help me with this. I placed the bottle inside the sleeve to keep it stretched and from sticking to itself while I hot-glued the ribbon on. I then glued another strand beside it to give me the desired thickness I needed.
I rolled the wrist inside the sleeve. Since it was elastic, it stayed on it's own.
Last but not least, you need the black undershirt. You can use a plain black t-shirt. I cut up one I had lying around in my donate pile. I cut off the excess that wasn't going to be showing and glued it to the inside of my red shirt collar. I also cut a v-neck into my red shirt to complete the TOS look. This helps the black shirt stand out more.
You now have a TOS style red shirt. You can stop here if you'd like. This is a great way to make a cheap Star Trek costume. If you're looking to go the zombie route, continue on.
------
1) Completed Red Shirt!
2) Torn for the zombie look.
3) Apply fake blood,
make-up
and any prostheses you might want to use.
I used scissors, a box cutter and some elbow grease to get my torn look. For some added effect, I also painted the shirt in the areas that were torn. I added some water to a mixture of red and black craft paint and dabbed it along the torn edges.
And there you have it! You have now completed your Zombie Red Shirt look.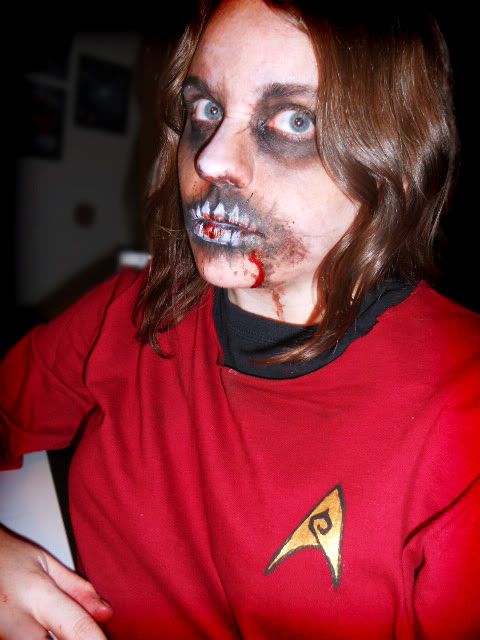 You can take it another step further and tear up your pants or add a tricorder toy or Vulcan ears. A friend of mine also suggested to use black spray paint and apply it lightly to the chest to imitate a "phaser burn"
Live long and prosper.
If not, then BRAAAAAINNNSSSS
<3 Stephanie