The welcome sign to Canton via
First Monday Canton
Canton, Also known as
First Trade Mondays
, is notorious to thrifters in this region of the South. With more than 100 acres of shopping, and 28miles of walkway, it's easily the biggest place to go
treasure hunting
thrifting in Texas. The weekend of every first Monday, vendors set up booths, tables and open up their halls.
There's so much to see and do. We normally try to go in the fall. It get's too hot in the summer to spend the day outside all day, and too cold in the winter. This will be Jeremy's first time ever getting to go. Boy is he in for a treat!
An aerial shot of the trade grounds via
First Monday Canton
Some vendors set up booths inside the craft hall to sell their jams, pet accessories, furniture and other handmade goods. I'll be honest, I tend to skip this area. Because time is money, I like to get straight to the good stuff. The outdoor lots and in the indoor Antique halls are the best places to find collectibles and hidden treasures.
Last October I found a full set of some vintage drinking glasses and only paid $0.50 a glass. The lady tried to sell me all 10, but I went home with just 6. I also got an awesome apron for $2 and a ceramic Scottish Terrier for my mom who collects Scotties. Regardless of whether you collect or not, you'll find something here!!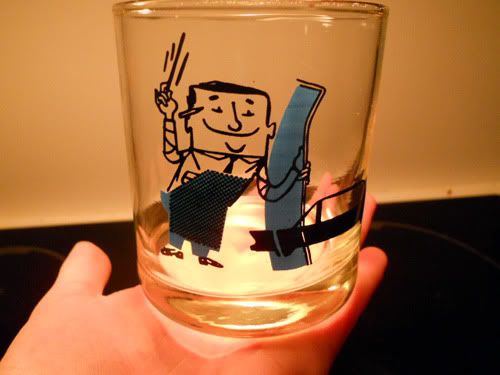 I loveeee these glasses so much, and I only paid 50cents a piece for them!
I always try to be prepared for my trip to Canton.
Here's a small list of things I pack to help make my experience the best!
backpack

- not as spiffy as a wagon, but it makes carrying lots easier.




camera

- to take lots of photos.

tape measure

- to make sure whatever I buy will fit in the car.




comfortable sneakers

- the majority of the vendors are out in the woods and stationed in the dirt and rubble. Good shoes are a must!

small bills & change

- it's so much easier to haggle when you have the exact change.

batteries

-

Sometimes I like to buy old electronics and toys. I don't always trust buyers when they tell me something works, so I bring my own batteries.

a small cleaning rag

- some of the best things I've ever found were hidden away in a grimy mess. I like to bring a small cloth so I can clean my finds to inspect them closer before purchasing.

water bottle

- gotta keep hydrated!
I never pack a lunch when going to Canton. The food there is just like fair food and half of the fun of the event. Mmmm funnel cake & twist potatoes!
-----
Do any of you guys have a thriftiness mecca that you love to frequent?
We'll be making the 1.5hour drive out to there tomorrow. I'm so excited!!!
Expect plenty of photos on Monday. :)
<3 Stephanie