I had this idea a few weeks ago and knew I'd try it out for Jeremy to take to work. I hate to bake things like this for the house. Like I said before, I love cupcakes. I just hate it when my mid-section starts to resemble one.
You'll need a few things. You can use your own cake and pudding mix if you'd like. I decided to go the easy route and used store-bought cake mix and pudding. I used the sugar free Jello pudding. Since the candy, cookie and cake already have a lot of sugar and sweetness to them, this kept the sugar content down and didn't overwhelm the other flavors. The pudding is here for the texture and in my opinion, it came out better this way.
:)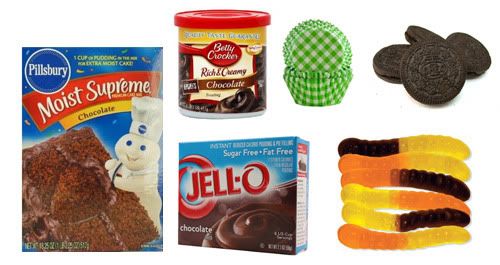 What you'll need:
Cake mix (and it's ingredients)
Pudding mix (and it's ingredients)
Cupcake liners
Icing
Chocolate cookies (I used off-brand Oreos)
Mini gummy worms
Preheat oven and bake cupcakes accordingly. Don't forget to use some cute cupcake liners! I got into the fall spirit and used ones with pumpkins and owls on them. :)
While the cupcakes are in the oven, mix pudding accordingly. Sadly, I've yet to find a good dairy-free pudding recipe or instant mix. However, the Jello Sugar Free pudding seemed to be ok. Since you're really only eating a small bit in each cupcake. Once you've mixed your pudding, let it sit in the fridge until we're ready to use it. Leave cupcakes to cool once they're done baking.
With a small knife, cut out a cone shape in the top of each cupcake, This will act as a bowl for our pudding to go into. Make sure it'd deep enough to hold a spoonful of pudding, but not too deep that you cut through the cupcake.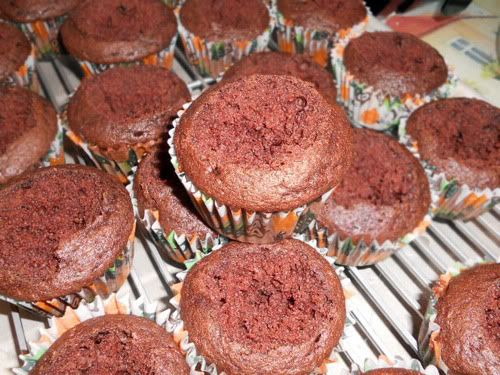 Using a knife, line the inside of the hole in the cupcakes with a thin layer icing. Some of you might know this as a crumb coat. Put back into the fridge and let the crumb coat settle. This will help to keep the pudding from seeping into the cake itself.
Once the crumb coat as firmed up, add pudding!!! I used between a tsp and tbsp for each cupcake, but just eyeball it.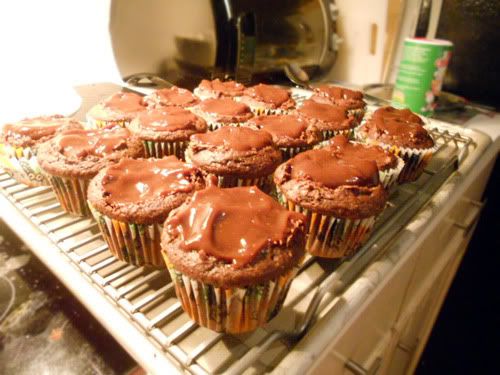 In a bowl or piece of tuppaware, crumble up some cookies. Sprinkle them onto the cupcake. Make sure to shake off any excess.
Add gummy worms and enjoy!!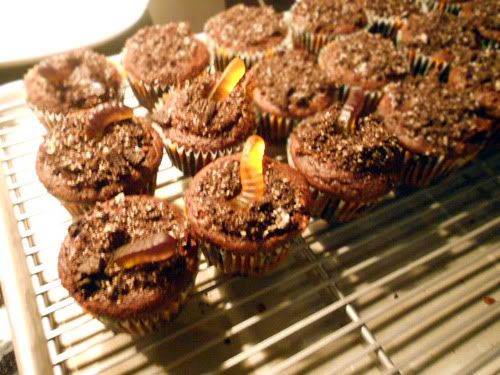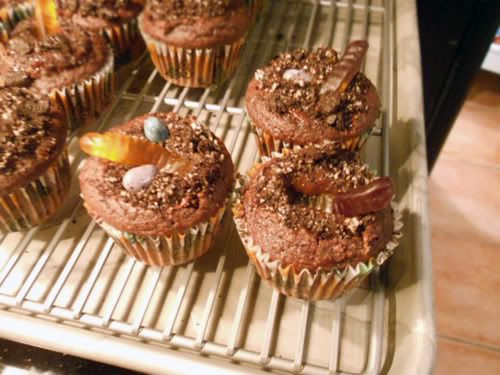 I used some spotted jellybeans as rocks, to add some extra colors and texture.
I kept these in the fridge overnight and they still tasted great the next day. Everyone at Jer's work loved them. One of his coworkers even had a foodgasm. These would be great for kids parties, zombie parties or even a bit of needed nostalgia. And with all the leftovers, you can create some plain ole' dirt pie and eat it yourself. I know I did!
Bon Appétit
<3 Stephanie