Making french toast from scratch may sound intimidating, but I promise you it's not!!! All you need are a few things. If you don't have any Challah bread or can't find it where you live, any porous white bread or egg bread will do. But trust me, you'll want to make this with Challah bread.
What you'll need:
Challah Bread (sliced)
2 Large Eggs
3/4 cup of Milk
1/2 tsp Vanilla Extract
Pinch of Salt
For the frying:
Oil & Butter
Cinnamon Sugar
Finishing Touches:
Cinnamon Sugar
Confectioner's Sugar/Syrup to top.
---
Take 2 large eggs and whisk them together in a large mixing. Add milk, vanilla and a pinch of salt and mix them together.
I use Vanilla Almond Milk by Silk. I swear by this stuff and it totally makes the difference!! Jer loves to use it in his cereal and I love it in my baking. It helps to add a subtle sweetness and keeps in the fridge much longer than regular milk does.
Take your sliced Challah bread and soak both sides in the mixture. The longer it sits, the more the flavors will adsorb into the french toast. Between 1-5 minutes. If you can't get your challah bread pre-cut, slice it up into 1/2" pieces. You'll want to use either plain or raisin challah bread- avoid the ones with sesame and poppy seeds for french toast.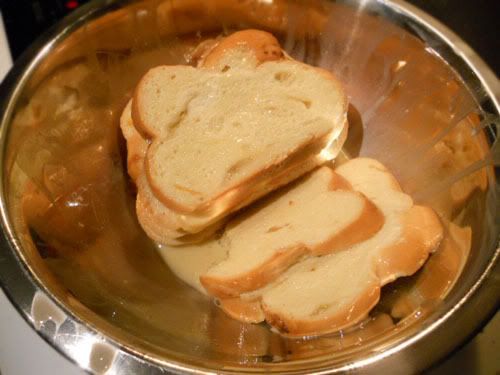 While the bread is soaking, take a 10" frying pan and heat it to med-high heat. Add in about 1tbsp of oil and 1sp of unsalted butter. I used soy butter for my mixture. let it get to heat.
If the oil/butter mixture starts running low, add more. Remember to let the pan sit and get back up to heat before you resume frying.
Carefully fry the slices. I like to let the sit for about 1-2 minutes on each side. You're looking for a beautiful golden brown. At this stage I like to take my Cinnamon Sugar shaker and lightly shake a bit on each side as I fry it. I find that it cooks into the french toast much better this way.
Let cool and serve! You can drain it on a paper towel if you'd like. I usually just throw mine on the plate. Top with Confectioner's sugar, syrup or preserves. Enjoy!! :D
This has become one of our favorite recipes at home. Jeremy and I always make sure to keep eggs and challah in the house for just the occasion.
JEW TIP
:
If you're wondering how to say "challah" pronounce the "ch" like you're coughing up a big lougie. Speed it up to the length of a single sylabol and you've just pronouced the hebew letter Chet! Gross I know, but it's how we were taught!! The word it self sounds like holla, as in "holla at yo boys".
I hope you've enjoyed my recipe for Super Easy (and super tasty) french toast!!
<3 Stephanie