Star Wars has "May the 4th" and Trekkies have April 5th:
First Contact Day
.
First Contact Day was a

holiday

celebrated to honor the flight of the

Phoenix

and

First Contact

with the

Vulcans

on

April 5

,

2063

.
On

Earth

, children get the day off from

school

, a fact

Captain

Janeway

remembered was really the only way they used to celebrate it.
It's nothing super imporant or based off anything that REALLY happened. It's just a fun pretend holiday us trekkies like to celebrate. I mean, who can pass up an excuse to celebrate Star Trek AMIRITE?
In honor of First Contact Day, here are some of my TREK 3 FAVS.
Jeremy said he wanted a new mit. Maybe I'll buy him this one!
I laughed so hard at this.
And for a special added bonus, here's a photo of Jeremy and I in Costume at Sci-Fi Expo this past February with our friends Kurt, Maria & Angie. You can see up in Make-up in the first photo and without in the second.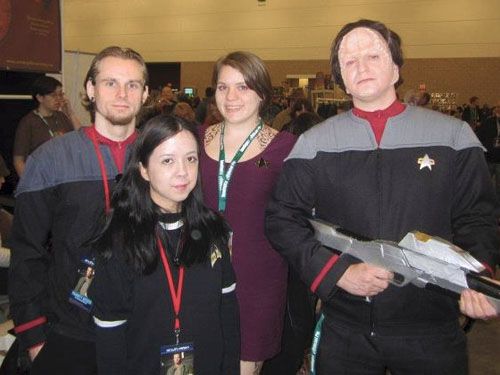 Oh what fun it is to be a geek. <3
Happy First Contact Day!
Live long & prosper. <3