As I talked about in my Adventure post earlier this week I had quite an exciting thrifting score during my time down in Deep Ellum. I've been wanting to make-over the storage in my bathroom for a while and went on the hunt for a catch-all. I came home with three :D
\
OK, so the transformation isn't huge, but when Jeremy came home and yelled "Wow" I knew it was enough.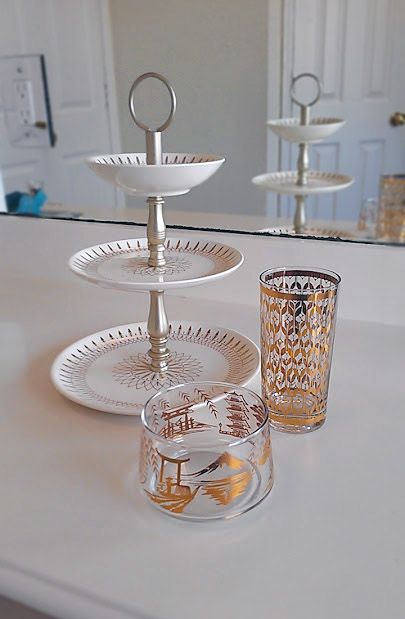 MY THRIFTING SCORE!! 3 lovely pieces of vintage goldness.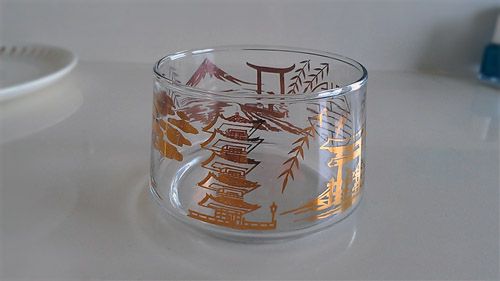 This was the find that started it all!! An amazing dish with gold painted oriental accents. And I got it for only $6 at the Antique Mall.
The three tiered stand:
One of the best things about a "catch-all" is that anything can be one! This desert stand does an amazing job. God I love this thing so much!! The moment I saw it I knew exactly what I wanted to do with it, what would go there and where I could place it.
I found a similar styled piece at
Urban Outfitters
at a fraction of the size for $34. I only paid $17 for this lovely piece that is in Like-New condition. I just about squeeled when I found it.
Here they are will all my make-up and Jewelry lovely.
Sometimes it's OK to splurge.If you've got a specific look you're going for and buying vintage, sometimes you might not find "the one" at the right price. But if the price that's offered seems within reason of your budget, it's ok to go ahead and get it.
My biggest splurge would actually be my 2nd most expensive item. For $12.99 I paid A LOT for a drinking glass. I could've settled for a similar glass at half the cost but it didn't match the set very well and was not in the best of conditions. I decided that instead of holding out for a similar piece at a lower price to go ahead and splurge on this cup that I was drooling over. And I'm glad I did. :D
All in All I spent $36 for the lot
, including taxes. And to be honest, that's not bad for what I was expecting. Remember that 3-tiered stand at Urban Outfitters was $34. Do yourself a favor and buy vintage. :)
My bathroom space-saver tips:
If you don't use it, then lose it!!

Throw away old prescriptions, medications, toiletrees and make-up. If you haven't used it but once or in a long time - maybe it's time you part with it.

Anything you don't use daily can be stored away to a secondary spot. Some of my more expensive jewely was moved to a jewelrybox in my bedroom. Other things such as make-up cleaner, pore strips and medication was stashed away in the middle drawer and medicine cabinet.
My family has always made a habit of keeping medicine in the kitchen in a high-up cabinet, so I moved all non-daily meds such as aspirin, benedryl, cough syrup and the like into a basket above our oven.
Hair gels, hairspray, shaving cream and face was was stored away in a bit container. You can see it in the wooden box in the first picture.
Do you guys have any creative pieces you use for storage around the house?