I'm going to Tarantino this post for a moment
, and tell you the entire story that led to my getting Black Heels. I had my first major bridal breakdown... and it was over a pair of shoes. Pretty lame I know. Here's how it happened.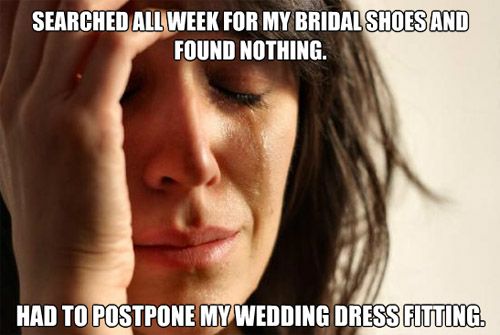 #FirstWorldProblems
I knew planning a wedding was hard and that picking a dress wasn't much easier. But no one told me how hard finding shoes would be. To be fair, I have a pretty unforgiving foot shape. A wide foot, narrow heel and the craziest toes - it's very hard for me to find shoes, let alone white ones. After many days, over 50 stores, 2 entire malls and a dozen or so online websites exhausted - I did what I promised I'd never do. I broke down crying. many times. And that's when I realized that maybe I didn't have to go with a white shoe.
I thought about going with the color shoe trend, but my mom brought up a good point.
"Your dress is so pretty. You don't want people to notice your shoes more than they notice your dress"
I love my mom.
I am so proud of my dress! And in turn, I became even more obsessed with finding the perfect shoe. For me, that's one with a good cover and a strap over the foot. No strap and I'll walk right out of the damn things!!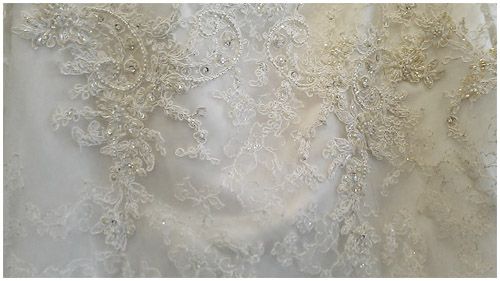 A tease of my dress! It's so vintage looking and comfortable and shinny and I just absolutely love it.
If you're curious to see the full thing, email me and I'll send you a link to the designer. ;D
1) My foot is shaped crazy
2) My dress was a very pale shade of ivory - impossible to match with shoes.
3) White is apparently out of style unless you pair it with a wood or cork heel.
4) Black shoes are awesome!!
got it? ok good.
Eventually after some Pinteresting, I decided that I could go with a black pair. I fell in love with a pair while at my 3rd DSW today and after some much needed calming down and clarity, Jeremy and I ran back just before close and got them. It was all smiles the entire way home. *cuddles the shoe box*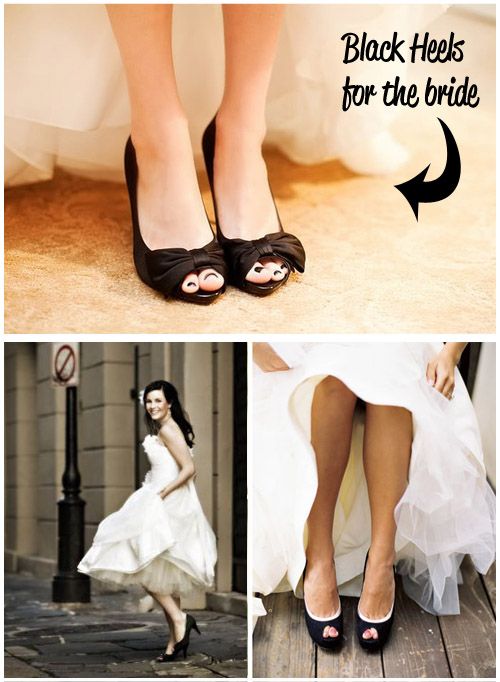 My Pinterest and Google finds! Don't black shoes just look awesome? I think the contrast between the shoes and the dress is just fabulous.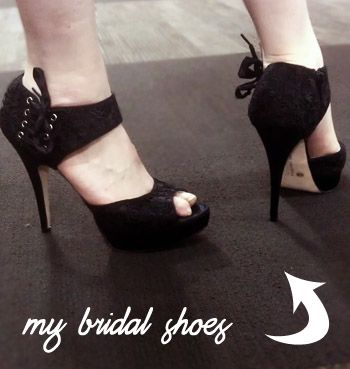 I love my shoes. I think they're absolutely gorgeous, and so far they are very comfortable. They're called "Head over Heels Black Lace Heel" by Chinese Laundry. I threw down $70 for them. Slightly above my personal $50 limit, but it was worth it for the peace of mind. Not to mention I'll definitely wear them again!
My wedding dress fitting has been postponed until the 2nd week of May. Not just because of the shoes. I just felt like I wasn't ready yet and asked them for more time. The shoe fiasco is now over. Crisis averted. And all is well in the Nabo/Mayes home again.

Hopefully I have better luck finding some Spanx. lol.
What have you stressed about lately?