Hey everyone, how was your weekend?
Mine was packed full of last-minute wedding stuffs. I also got a present!
Kayla
, my blogging bestie,
sent Jeremy and I an awesome wedding gift!! We unwrapped it this weekend and Jeremy couldn't be any happier!! I mean seriously, look at that face! He insisted he get to wear his Star Trek uniform for the photo. :)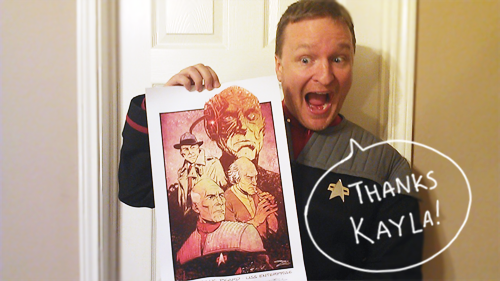 Kayla
posted
about an awesome bookshelf she curbed last month. Her fiance filled it with nerdy fan-art prints and Jeremy was drooling over this one. It features Captain Picard in his many forms while on Star Trek: The Next Generation.
Thanks for gifting us our very own copy!
We shall hang it in our nerd dungeon with pride! <3
Speaking of TNG, have any of you comic-loving peeps been keeping up with IDW's recent
Star Trek/Doctor Who
crossover
series
?
Assimilation² is an 8-part mini series featuring Doctor Who, Captain Picard, Cybermen and the Borg. The story is great, the characters well written and the illustration is absolutely beautiful. Not to mention to cover art alone is worthy of being turned into a poster. Interested? The first 2 issues are currently out with the third to be released later this month. Check your local comic book shop for listings.
The Walking Dead #100 comes out Wednesday. Roxy from Grrfeisty has been
reading the comic
. I can't wait for her to finish so I can talk zombies. Rumor has it that Daryl will make an appearance in this next issue. <3
Less than a week until our wedding. eeeeeeeeeeee!!
<3 Stephanie