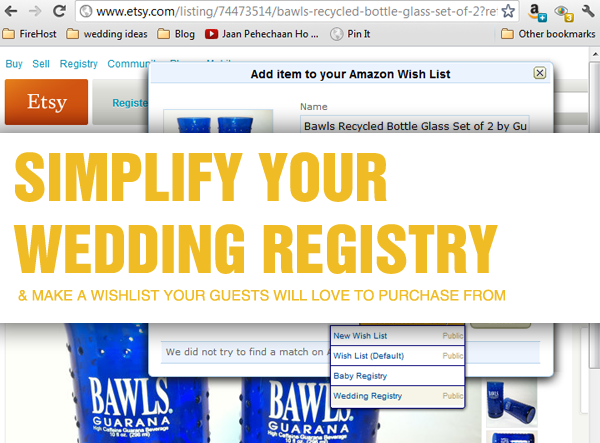 I've never been one to accept gifts easily. So when it came time for us to start our registry, I had a hard time deciding where to start. Jeremy and I ended up settling with just three places: Crate & Barrel, Amazon & website to raise money for our honeymoon.
It's very important to always pick at least one store to which people can walk-in and purchase a gift. Especially for many of the older guests, who would rather pay in store than figure out how to pay for something online. For that reason, we chose Crate & Barrel.
But for our Online shopping friendly friends and family, we had tons of choices. Websites that sold
nostalgic toys
and decorative items.
ThinkGeek
with it's amazing gadgets and nerd-den items. Amazon offers many items, but not everything. All these wish lists were piling up and almost all of them had less than 10 items a piece. I felt silly making people click through all these registries.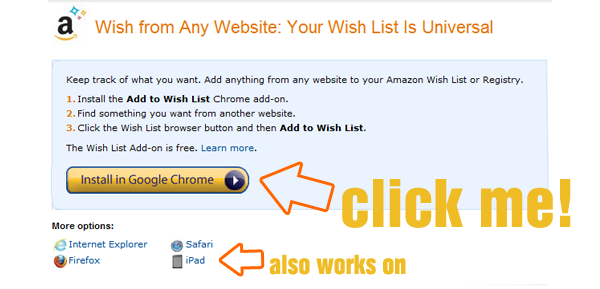 It's like a 'PIN IT' button for your Registry
Luckily, Amazon released their
Universal Wishlist tool
. A browser add-on that let's you add a product from any website onto one of your existing amazon wish lists!
Simple enough, right?
>>>
ADD ITEM TO YOUR AMAZON WISH LIST
Install the Amazon Universal Wish List button. Go to any website that advertises a product. It doesn't even have to be a checkout page (great for all those sites that redirect to Paypal). Click the Amazon Universal Wishlist icon. You can click the "Add to Wish List" drop down and select
>>>
MANAGE YOUR WISH LIST/REGISTRY
It's so easy to go back and make changes, view updates and see what's still there and what has been bought. Sometimes people forget to purchase your items through your registry checkout (woops!) Just go to your manage registry page and manually remove the items.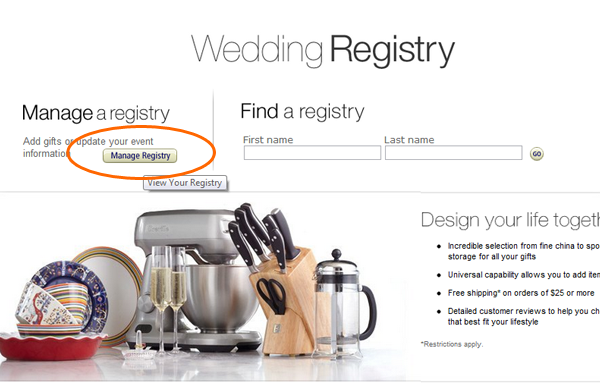 \/ \/ \/ Check back to see what's been bought and what hasn't. Amazon keeps record of who/what/when. Perfect for keeping track when it comes time for writing all those 'thank you' letters.
>>>
SHARE YOUR WISHLIST WITH THE WORLD
It's that simple! I used my Amazon Wish List (seen below on our wedding site as 'Amazon Wedding') to compress our registry page. There were many stores such as ThinkGeek and Target where we had less than a dozen items registered. By moving those items onto our Amazon wishlist, we made it easier for our friends and family to find what we wanted in less places.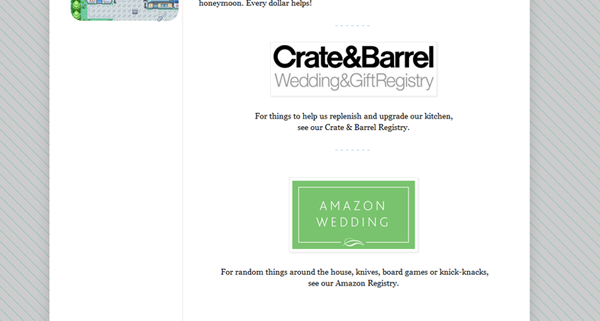 I've been using this tool for my own personal wish list (so Jeremy knows what presents to buy me!). If you're not planning a wedding, no biggie. Birthdays. holidays, baby registries or just because. Use it to keep track of things on your own wish list and buy you a special something on pay day. ;)
Happy Wishlisting.
It's never too early to tell Santa what you want for Christmas this year...
- Stephanie